Equities
Bitcoin and Chips
This was a positive week for global stocks with all major indices hitting all-time highs and February is shaping up to be a positive month. The US Corporate Quarterly Reporting Season is in full flow. As we have noted for the last two weeks, most large companies are beating expectations on both Revenues and Net Profits. This pattern was repeated this week with strong numbers from Disney, Twitter and S&P Global. Companies whose results were affected adversely by the Covid pandemic included Uber and Coca Cola.
Two major factors driving the market this week were Bitcoin and Chips.
Elon Musk announced that Tesla had invested US$ 1.5 bn of his US$ 20 bn cash pile in Bitcoin and the price of Bitcoin is now over 40% higher. By investing in Bitcoin in three days Tesla has made more profit (unrealised) than it has ever done in making cars. The rise of Bitcoin has become front page news and many clients are asking us how to invest in Bitcoin. Many investors are reluctant to buy Futures or trade with Crypto Exchanges where there have been many frauds. The US SEC has repeatedly failed to approve a Bitcoin ETF though it may do so in the future. There are many other less risky ways to benefit from the Bitcoin boom other than buying Bitcoin. One can buy companies like Tesla or MicroStrategy which have made significant investments in Bitcoin. There are payment companies such as PayPal, Mastercard and Square which have either announced plans or commenced in dealing in Bitcoin. The sharp rise in price of Bitcoin will increase more investment in "mining" of bitcoin. A key beneficiary of this demand will be Nvidia and AMD which makes the high-end chips needed. Needless to say all of these stocks performed strongly this week.
Many US companies reporting in the last two weeks have reported that the global shortage of chips is affecting their ability to meet demand. This week such comments were made by General Motor and Solar Inverter maker Enphase. In our increasingly digital world, large numbers of chips are embedded into all sorts of devices, appliances, motor vehicles and industrial infrastructure. The foundries are producing at full capacity and new investment is required. This is a serious situation. As one analyst commenting after the General Motors results noted, the shortage of a chip worth 20 cents prevents the construction of a USD 40,000 car. President Biden announced that his administration will tackle the global chip shortage though it is difficult to see what can be done in the short run.
This situation presents opportunities for investors at many levels of semiconductor industry value chain. We list some of the companies which seem interesting to us. The big manufacturers are Taiwan Semiconductor, Samsung and Intel though the latter has recently fallen behind the other in the investment arms race. Equipment manufacturers such as Applied Materials, Lam Research and KLA Tencor. The leading chip designers particularly Nvidia and AMD. In addition there are large companies which supply the chip equipment manufacturers such as Synopsys and Cadence Design. Finally there are specialist equipment suppliers such as ASML Lithography.
In our Funds and client portfolios, we continue to look to invest in top quality, profitable and highly cash generative companies. Our stable of recommended names continue to feature companies such as Nvidia, Microsoft, Apple, Facebook, Mastercard, Moodys, S&P Global Inc, Visa, Trex, Idexx, Games Workshop, Alphabet, PayPal, Howden and so on. If the share prices of these and other similar companies should happen to fall – perhaps due to some market panic – we would be happy to buy more as their long-term potential for compounding remains unchanged.
Equity-Linked Structured Products
The markets have calmed down this week after the Gamestop / Hedge fund forced short covering in the last week of January. Equity market volatility as measured by the VIX Index declined significantly back to around 22 as shown in the chart below.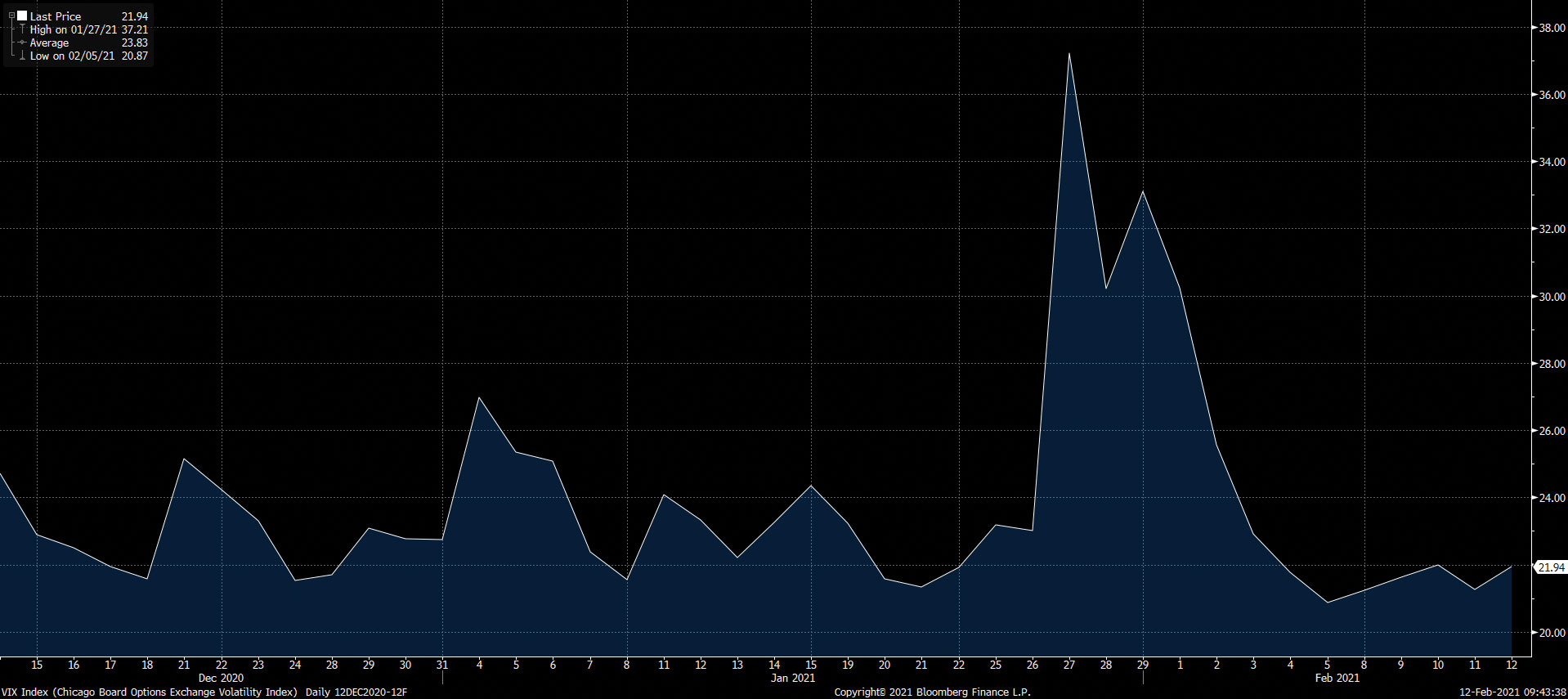 This means that the level of coupons that can be achieved on Equity-linked Structured Products have fallen back significantly.
In this arena we focus to a large extent on Autocallables on baskets of three or four stocks. We tend to look only at good quality companies where we have done detailed analysis of the fundamentals. Our structured always have guaranteed coupons, a maturity of 15 months or less and have a low strike of around 75% so that investors will not suffer capital losses for the first 25% of the declines of the worst performing of the stock. Coupons are in the range 7% to 11% p.a. in US dollar denominated notes of this type. Our strategy at this point is to act opportunistically and move fast to capture higher coupons. If a particular stock in our carefully selected universe shows a temporary but significant rise in volatility (perhaps due to results announcements) we will add that to the basket with two or three other notes and capture a high coupon. In the last two weeks we have done this with General Motors and Twitter and achieved Coupons of 12% for 12-15 month autocallable notes.
Fixed-income
Higher inflation, higher bond yield, higher debt equals steeper yield curves.
Last week we noted that while short rates remain anchored close to Zero (or even negative in many European Countries – thanks very much, major global Central Banks!) bond yields are rising and the steepness of the yield has increased to the highest level in four years as shown in the 10year – 2 year TSY spread below:

This in part reflects an increase in inflationary expectations. The US 5-year forward inflation expectation rate and the 10-year break even inflation rate have risen by 12bp and 14bp respectively since late January to a recent high of 2.1% and 2.2%,the highest level in six years. This is clearly shown in the graph below:
In our view this reflects the fear of inflation. This has been spurred on by the steady increase in Oil and other commodity prices in the last nine months and the view that the global economy would re-open as the vaccination programmes in the developed world begin to have an effect. The number of Covid cases per day in the USA is falling rapidly as shown in the chart below:
Another contributory fact is that the bond markets are finally starting to worry about US government borrowing. The Biden administration are determined to push though their USD 1.9 trillion spending package using the reconciliation mechanism which only requires a simple Senate majority and means the Biden administration does not need to wait to persuade 10 Republican Senators to vote for the measure as a simple Senate majority is sufficient. This Covid relief package is just the first stage – it
will be followed by a USD 2 trillion infrastructure package which will require bipartisan support. This will require even more US government borrowing and bond prices may be falling in anticipation of this increased supply of bonds.
If this trend towards higher yields continues, we will see an improvement in the returns which are possible from leveraged bond portfolios.
Prominent GBP bonds issued last week were, Bellis Acquisition who took over ASDA, issued one of the biggest GBP denominated bonds from UK corporates. ASSDLN 3 ¼ 02/16/26 – secured (up 1.25 points) and 4% Bellis Finco 2027 – Sr. Unsecured (up 1.5 points).
Some USD bonds issued where 2.80% Ultratech02/16/31 (down 0.50 points) a good India corporate issue which is tightly priced, 4% India Green Power 2027 (up 1 point) 3.875 and Citi Perpetual, call 2026 (up 1.375 points).
We would continue to recommend from metals / mining sector, Middle-East and Indian bonds.
Latest Update: Feb 19, 2021